LIVE BAIT BOTTOM TROLLING RIGS 1005

Special rig for live or fresh bait (cuttlefish , squid) with 100% fluorocarbon line total length 200cm and two-sided 50cm. One sliding hook.

Εξειδικευμένο παράμαλλο σε 3 τύπους αγκιστριών (Κόκκινο-Μαύρο- INOX) για ζωντανό δόλωμα (καλαμάρι-σουπιά- ψάρι). Με 100% ΑΟΡΑΤΗ πετονιά μήκους 200cm διπλωμένη στους 50cm με 2 αγκίστρια μπροστά και το άλλο πίσω συρόμενο.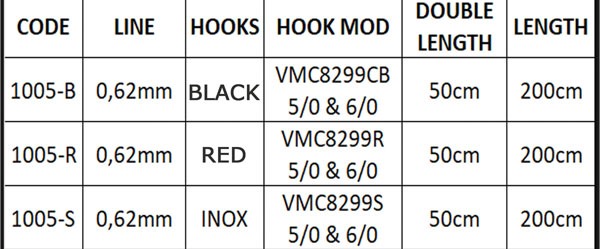 LIVE BAIT BOTTOM TROLLING RIGS 1005